After lockdown for more than months, we were able to travel again. Our travel destination became 'Yala' situated in the Hambantota district. New highways helped us to enter the Hambantota district within 4 hours. 
    We came to our hotel and rested an hour before starting the journey.  When we decided to visit 'Yala' we couldn't miss Sithulpawwa raja maha viharaya. 
    After 3 pm we entered the road which goes to Sithulpawwa. It's in the middle of the forest. We met deers who walked here and there to find grass. 
    Peacock tried to take the attention of a lady peacock. He spread his feathers and dance to impress her. We had time to watch his dance. But sadly, the lady didn't care about his dance. 
Suddenly a big elephant appeared in front of our vehicle and we slow down. Because this is their area. their home. not ours. We were only visitors to the forest. A few minutes later he decided to let us go and he turn into the forest.
We were able to enter Sithulpawwa car park after more than 30 minutes. There were wild pigs more than vehicles. They walk all over the park without caring for people. Not only pigs there were elephants who asked for food from pilgrims. We saw elephants stay near the monks. It looks like monks and elephants communicated with each other. What a combination.
    'Sithulpawwa raja maha vihara's is an ancient Buddhist monastery. It was completed around the 2nd century BC. Stupa builds on top of the rock. It's a really beautiful and soothing scene. 
    We stepped on stone stairs. Stairs finished near the 'Ran thelabu tree' covered by a gold fence. It's an important and rare tree. 
    We saw a big area from there. Without noise feeling of wind is amazing. We worshiped to the stupa and go down to the rock. There were many things to visit. 
We can see another rock with Stupa. It's called small sithulpawwa. We stayed near the 'wewa' which covered the rock.
    We need to stay there much longer but time is against us. Because after 6 pm you couldn't enter the road back to the hotel. Because as you know it's the middle of the 'yala' and night is for the animals, not humans. 
    If you travel there remember to be kind to animals and don't feed them. It could be fun and same time it could be dangerous for both you and the animals. Always keep it clean there.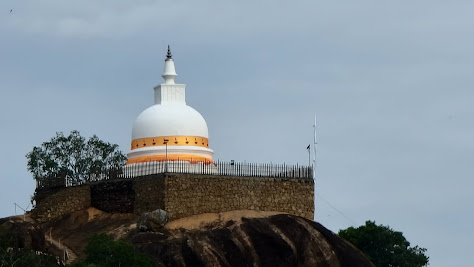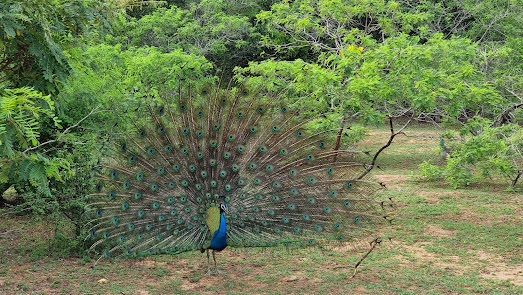 Pics by Dinesh Perera